Hi everyone! Today I was lucky enough to have a very famous dancer guest-write for me. See if you can guess who they are by the end of their post!
Hello. I have been asked to take a moment of my valuable time to write a guest post on some of today's ballets and ballet dancers. Very expected, as I am a ballet legend, if you will pardon my saying so. That said, I will be talking only about American ballet dancers, as I think that Russian dancers are not very interesting, they are just irrelevant in my view, except for
Ratmansky
, who is one of the greatest choreographers of this generation of ballet dancers, and I am glad that he got out of Russia.
Ratmansky with dancers. Photo from nytimes.com
I am not interested really in talking about classical ballet anymore. As I became older I did other types of expression, acting, modern dancing, theater, being on television. Still, I will talk a little about it, because I know there will be some people who will benefit from my talking.
Obviously, the young dancers lack a certain air of maturity, but I think that
Megan Fairchild
is quite good. She is a principal with the
New York City Ballet
right now, so you know she is familiar with
Balanchine style
of work, which I am very much a fan of, you know.
Gillian Murphy
has a lot of strength and command in her dancing. She is a principal with both the
American Ballet Theater
and the
Royal New Zealand Ballet
, and she is well known for her performance in Swan Lake. She is a bit tall for a ballerina, but I think in her case it does not matter. Her fiancé
Ethan Stiefel
is tall as well, so they appear regular on stage together. Ethan is
leaving New Zealand
, it has only been a few years, so that was quick, but sometimes you just need to leave the country, I know.
Murphy and Stiefel in Don Quixote. Photo from robertaonthearts.com
I already said that the Russian dancers are boring, but I also believe you can tell if someone is going to be a good dancer, is going to be famous, by looking at their face, and
Daniil Simkin
has the look of a passionate dancer. When I say boring, I am referring to mostly the women. American dancers are sometimes more difficult to dance with because they are heavier; with the Russian women you do not have to worry about that because they will push their bodies more; but the American dancers have more feeling in their bodies, there are things you can do to lose the weight, although I would not recommend any longer some of the things I recommended in my younger days. It is good to preserve your body.
I hear people say that Simkin is the next me, but I do not think so. There is no one that is the best, there is just being better than yourself, so he can not be me. He is young and has long to go. But he is not bad.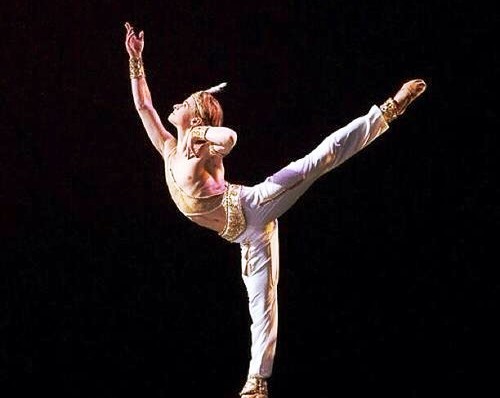 Daniil Simkin in Le Corsaire. Photo from cloudandvictory.com
The last thing I will talk about is upcoming performances in the D.C. Metropolitan area, because this is where the
peasant
person writing on this website lives. The only place worth my talking about is the
Kennedy Center
. The
Bolshoi Ballet
's
Giselle
is almost over, but I do not recommend it anyway. It was
reviewed
well by the New York Times, but I do not recommend it for obvious reasons.
Ballet Across America
by the
Boston Ballet
will be running for a brief time. There will probably be some good pieces in there. After that, the
Pennsylvania Ballet
will be doing
A Midsummer Night's Dream
. Normally this is nothing special, but it is in the style of Balanchine, so perhaps I would check it out. However, if you do not have the luxury as I do, of going to performances whenever whatever because of the money, here is what I will say, do not go to any of these, and save for next year. The ABT has
something good
in March, and they are a good company, they are good people, even though I left them to work with Balanchine.
If you have not guessed who I am by now, you should learn to be an intelligent and cultured human being. Anyone under thirty should watch me
here
so you remember me as a dance great and not just as Aleksandr Petrovsky from Sex and the City.
Me. And Sarah Jessica Parker. Photo from HBO.